I know, it sounds like the title of a 1950s black and white spy movie, but being a Director for the ROC Association and a member of the Board of Directors of ROC USA® has been one of the most dynamic and exhilarating volunteer jobs I have ever had the privilege to hold. What an honor! I've been on many boards of directors in the past and have served as an elected official, but none of those positions has ever given me the feeling of accomplishment that membership on the ROC Association Board of Directors has! 
Working with a very professional, accomplished, and high-energy staff of such an important organization and having warm and lasting relationships with my fellow directors, Marjory Gilsrud and Deb Winiewicz, has been both satisfying and fulfilling.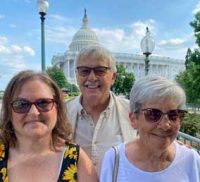 We meet often to discuss the work we do – work that benefits all the members of ROC USA. Whether it's regular Zoom meetings with manufactured home community members across the nation, attending regional meetings of manufactured home communities or meeting with congressional staff in Washington, D.C., I know I am doing good work for all of the homeowners in our 312 ROCs. It is deeply satisfying for me. 

And the work we do by representing ROC Association members (and your ROCs are all members!) benefits not merely our homeowners, but owners of manufactured housing nationwide. Yes, being a Director with ROC USA is a serious commitment, and it requires time and energy, but the payoff for me and our members far outweighs the time I spend for the vital and fundamental results we get. 

For instance, the work we have done on the PRICE Fund by personally meeting with Senatorial staff in Washington, D.C., has brought critical funding for manufactured housing infrastructure, funding your community may very well need, to the forefront. Whether that funding will be included in the 2024 Federal Budget remains to be seen but our work has brought us several steps closer to reality. 

But my term ends in December of this year and the ROC Association is looking for another member to take my place in the Mountain West region. Oh, I'll still be doing committee work with the ROC Association, but I am eager to find an energetic and dynamic person to replace me. Our good work can't be stalled now at this critical juncture, and I hope you or someone you know will step up to carry on the good work we do. 

Are you qualified to be a ROC Association Director? If you appreciate the critical efforts ROC USA undertakes and are willing to devote both time and energy (some but not too much) to see this work continued, then you are qualified to be a ROC Association Director and serve a 3-year term on the ROC Association Board of Directors. Your community's board of directors can submit your name as a candidate for the ROC Association board of directors. Elections will take place September through December, when the Mountain West Director will officially be announced. If you are lucky enough to win, you will be embarking on a mission that will give you pride and satisfaction while serving all our communities' needs. I promise you a fulfilling, important and critically needed part in our active and successful job to have an important role in making a better future for life in manufactured housing. I hope you and I will work together to accomplish that end. Good luck and thanks for stepping up to the plate!