Missouri ROC committee inundated with donations after creating a simple way for neighbors to help neighbors
LIBERTY, Mo. – When Liberty Landing Cooperative Member Karen Gardner turned 80 this summer, she didn't ask for presents. Instead, she asked friends and family to donate one item to the community's new Blessings Shed and Library to help provide her neighbors with food.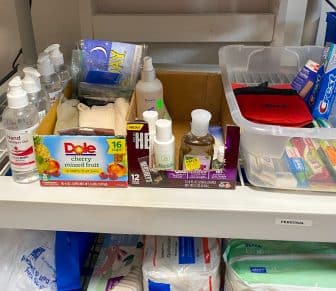 With more than 400 donations, Gardner's birthday party kickstarted the inception of the food pantry for Liberty Landing homeowners.
"It just goes to show you how generous people are," Gardner said. "I didn't think I would ever get it started and when it opened it was packed. There are people everywhere who would help if you just give them the opportunity."
Gardner and Linda Hazlett are co-chairs of Liberty Landing's Social and Wellness Committee. Along with its six other members, the group started the food pantry after noticing that many Liberty Landing residents were senior citizens on fixed incomes, struggling with rising grocery costs and having limited transportation to local food pantries.
"Money and everything is tight for everyone," Gardner said. "And we had a lot of residents who had trouble getting to the food pantry so we thought if we could help alleviate their expenses by providing food for them, we could make it easier for them."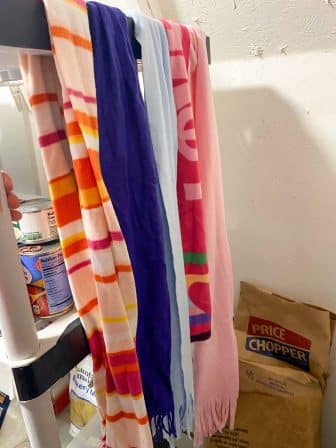 With a quick power wash, a fresh coat of paint and some new shelves, members of the Social and Wellness Committee converted a centrally located 8-by-10-foot shed into a food pantry and library. It's open daily from 9 a.m. to 6 p.m. (closed on holidays and for inclement weather) and provides non-perishable food items like cereals, pasta, canned fruits and vegetables, and other household needs like toilet paper, hygiene items and pet supplies. It also serves as a lending library and offers free books and puzzles. 
"We have a variety of items in there," said Hazlett. "Basically, whatever people bring and think others can use, they can put it in there."
The 195 Liberty Landing Cooperative Members purchased their community in December 2021 for $8.58 million with help from the ROC USA team.
The committee held a grand opening for the Blessings Shed and Library this fall. Each of the eight members of the Social and Wellness Committee takes turns maintaining the shed – opening and closing, restocking and organizing the shelves and sweeping and cleaning it daily. Gardner said she hopes more people in the community take advantage of the free food and other items.
"We felt like there was a need there and we feel blessed that we are able to do it," Gardner said. "We hope more people use it. We would love to see the shelves half empty."