LITTLE RIVER, Calif. – The Woods Cooperative Association has been busily making improvements since the homeowners purchased their community in December. A 120-home community for adults 55 and over, The Woods' Board soon turned its focus to improving engagement among Members.
Some Members prefer in-person meetings but often have trouble hearing in the large, high-ceilinged room where they take place. Others have health issues and feel uneasy in a group meeting, especially with COVID still a real presence in everyone's lives. The Woods' leadership wants all Members to be able to participate in the way that suits them best, while also making it easier for residents to see and hear, whether attending online or in person at the clubhouse.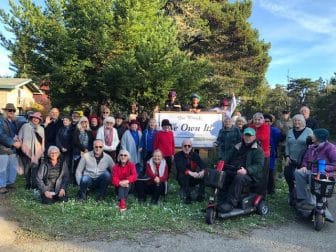 The co-op Board landed a Better Together grant from the ROC Association to deploy a tech package and communications system that enables hybrid community meetings and allows all Members to feel comfortable and part of the community. The computer, projector, screen, and audio equipment were set up, a Zoom account established, and announcements made for the first hybrid meeting in September. Fully a third of the community's households attended and the Board is looking forward to improved meeting attendance and an improved experience for all attendees.
The Woods works with CaliROC, a program of the California Center for Cooperative Development (CCCD) for technical assistance such as organizational coaching and development. CCCD is the ROC USA® Certified Technical Assistance Provider in California.
The ROC Association is a community-leader led movement. Membership is free and automatic to the more than 300 communities that are (or have been) supported by a ROC USA Network affiliate such as CCCD. The annual Better Together Grants program has been funded by ROC USA since 2011, with nearly $180,000 in grants awarded.