EMIGRANT, Mont. – Homeowners in Golden Age Village are breathing easier this fall knowing that as new landowners, their future in this rural Montana community are considerably more stable and secure.
"I feel really grateful that we can call this land ours," said Meghan Kelley, Board President of Golden Age Village. "It's comforting to know that our lot fees are stable at an affordable price, and that we will never be forced to leave due to an investor ownership, or price increases that were previously out of our control."
Golden Age Village is a community of 49 manufactured homes along the Yellowstone River and at the base of Emigrant Peak. This area is known for fishing, camping and boating. The homeowners there formed a cooperative and purchased their community Aug. 31 for $1.5 million with help from NeighborWorks Montana®, the ROC USA® Network affiliate in Montana.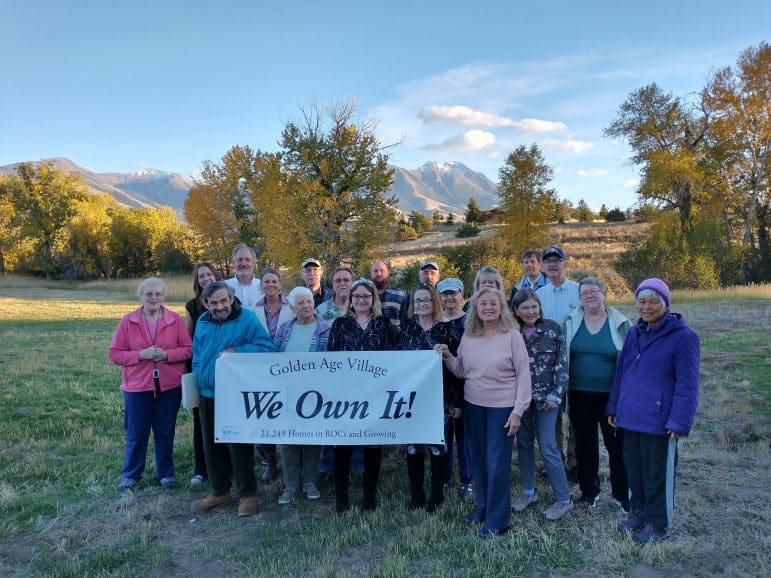 "We really couldn't have become a resident owned community without the professional guidance and extensive knowledge of the team at NeighborWorks Montana, the generosity of our lenders and the compassionate heart of the sellers," Kelley said. "I'm excited to improve the grounds and create a welcoming and thriving community for our residents of all ages."
NeighborWorks Montana will continue to support the community as Members build the leadership skills needed to manage their community.
"This beautiful valley is quite popular with movie stars and billionaires but offers little in the way of homes that are affordable. The fact that we can preserve these 49 homes will make a huge impact in this rural valley," said Adam Poeschl, ROC Program Specialist for NeighborWorks Montana. "The ROC program empowers those who live in these parks and helps them have peace of mind."
ROCs preserve an important source of unsubsidized affordable housing for working families, seniors, and people with lower incomes. Owning a home in a community like this is typically half as expensive as renting an apartment and owning allows homeowners an opportunity to build wealth. This is the second ROC purchase within Park County, an area where the median home price is approximately $544,985 and housing stock is limited. Making it even harder to find an affordable home, the median home price specifically near Emigrant is approximately $965,300. Now the community residents can control their lot rent and be at ease knowing that their community will not be sold out from under them.
Golden Age Village is the 16th resident owned community in Montana, with a total of 655 homes preserved across the state. ROC USA® now works with 304 ROCs in 21 states across the nation.