Mission Trail Community Association is the third ROC in Texas 
SAN ANTONIO, Texas – For Valerie A. Valenzuela and her family, becoming a resident owned community has provided not only peace of mind for future stability but a sense of belonging and pride in the neighborhood she calls home.
The community was at risk of displacement prior to the City of San Antonio's 2022 Affordable Housing Bond award to purchase and convert the neighborhood to a resident-owned community (ROC).
On Nov. 13, with an unprecedented commitment from local officials, the homeowners of Riverside Terrace, a manufactured housing community about four miles south of downtown San Antonio, purchased their neighborhood for $3 million and renamed it Mission Trail Community Association.
"Saving the land has been the most important part of this process," said Valenzuela, Board Operations Director for Mission Trail Community Association. "There's a lot of history that is associated with our neighborhood and our community has been here a long time. If we didn't have this community, where would we go? There is nothing else like this that is affordable."
Financing for the resident purchase comes from four sources, including the equity contributed by the Members of Mission Trail Community Association. The financing package will fund the $3 million purchase and a comprehensive infrastructure repair and replacement project.
Primary funding sources include:
The City of San Antonio: $3 million

The San Antonio Housing Trust: $750,000

ROC USA® Capital: $1.55 million
"We are very pleased to join with the City of San Antonio and the homeowners to secure this land and this community," said ROC USA® President Paul Bradley. "I remember when a large community in San Antonio closed and displaced so many just more than a decade ago. To be a part of this public, private and community response is deeply fulfilling."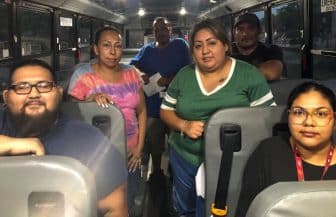 "San Antonio is demonstrating what it means to preserve all types of affordable housing for all of our residents." said City of San Antonio Mayor Ron Nirenberg. "We are ensuring families have ownership, investing in the health of this community with resources to address critical needs, and protecting neighborhoods from displacement."
Joseph Valdez is the Board President for Mission Trail, and while he never pictured himself in a leadership position, he is excited and energized to help lead the community he has lived in for nearly eight years.
"I've never really done anything like this before, and it's tough work but it's important work, and it's not just about benefiting the individual," Valdez said. 
"This is about doing the right thing for all our residents here. I see it for the greater picture it is. This is about making sure we all have a place to live for future generations."
Before the Mission Trail purchase, residents owned their homes but leased the land beneath them. This arrangement is typical in most manufactured home communities, and it can leave homeowners vulnerable to frequent rent increases and unfair eviction, risks that can increase when the properties are put on the market. By purchasing the community and operating it as a cooperative, homeowners vote on major decisions like community rules, infrastructure projects and lot rent. It is this last piece that has put a spotlight on resident ownership of manufactured home communities as one solution to the affordable housing crisis. On average, ROCs raise site fees at a fraction of the rate of investor owners. For homeowners in Mission Trail, this long-term affordability means long-term stability.
"This is what community empowerment looks like," said Pete Alanis, Executive Director of the San Antonio Housing Trust. "My hat is off to the Mission Trail residents who decided to come together as a cooperative to preserve and protect their community.  I trust this Co-op will become a model for other manufactured home residents looking to take control of their futures."
"The partnership with the Mission Trail Community Association creates new homeownership opportunities in manufactured home communities for families," said Veronica Garcia, Director of Neighborhood and Housing Services for the City of San Antonio. "This initiative is in alignment with the City's Strategic Housing Implementation Plan (SHIP) to increase housing stability in our neighborhoods. This partnership demonstrates our efforts to mitigate displacement and ensure long-time residents benefit from community-wide investments."
"ROC USA Capital is very pleased to be working collaboratively with the City of San Antonio and San Antonio Housing Trust toward the financing of the first ROC in San Antonio. The financial commitments of each of the three Lenders are critical to the ultimate success of Mission Trail Community Association for the low- and moderate-income homeowners who live there," said Michael Sloss, managing director of ROC USA® Capital. "We look forward to strengthening this public-private partnership with the City of San Antonio and San Antonio Housing Trust to both meet the needs of the homeowners at Mission Trail and homeowners in other manufactured home communities in San Antonio for many years to come."
Valdez and Valenzuela are starting to see the excitement spread throughout their neighborhood.
Valenzuela lives with her boyfriend, two young sons and her dog in a two-bedroom, one-bathroom manufactured home. She has a fenced-in yard and a carport, and the home is paid off. Her three grown children come by to visit and having the extra space has been crucial for her family.
"I pay $475 per month, and I have looked at other places. For a one-bedroom apartment, I was looking at $1,200 per month and that's not even close to the space I have now," she said.
"I think this is going to bring us all closer. More and more people are starting to talk to each other. People are starting to show more and more pride in our community, and they want to take care of it," she said. "When you're down in the dumps, you stay there but when things get better and you start to see the light, you want to spread that light and take care of your surroundings more."