ROC-to-ROC connections spur revenue ideas
When Royal Crest Residents Association became a ROC at the end of July, its Members immediately began thinking about ways to increase revenue without increasing rent.
"We had 10 vacant lots, and we knew if we put new homes on those lots this year, that could help," said Al Latini, a Board Member at the 154-site community in West Wareham, Mass.
"We started looking at what other ROCs were doing," said Bob Costa, Board Vice President. "And when you have that kind of collaboration between communities – especially if you are resident owned – it goes a long, long way."
During a monthly Zoom meeting with ROCs from across Massachusetts, Royal Crest got a little help from a neighboring community to its north.
At that meeting – called ROC Strong and hosted monthly by Cooperative Development Institute – Royal Crest learned that Halifax Mobile Home Estates Association's Board of Directors had a lot of information to share. Nearly three years ago, Halifax started its own sales company – Halifax Estates Sales Team – and since then has generated nearly $100,000 in home sale commissions. And all that money is deposited back into the ROC's general fund.
Royal Crest loved this idea and wanted to learn more.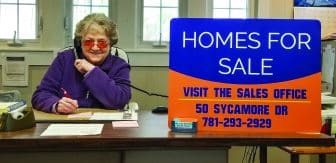 "What happens at these meetings is that you get a lot of information and there's a lot of ideas passed back and forth and someone else may have an idea that could work for you," Costa said. "And the collaboration is great, especially for us, because we are the new kids on the block."
Halifax invited Royal Crest to meet and showed Members how to set up a sales company, open an escrow account and find the right volunteers for the job. They also provided paperwork they could rebrand.
Royal Crest and Halifax are 55 and older communities, which its leaders say has helped with recruiting volunteers. When Halifax started its Halifax Estates Sales Team, the ROC had 12 volunteers committed to helping. They took turns working shifts in the office, showing homes, selling homes, and working the closings.
"The key is to find the right volunteers to do this job, so you don't have to have someone who is spending 40 hours per week on it," said Sheila Carroll, Board President at Halifax Estates. "We were lucky in the 12 people we got. We made great friends and the whole time we are working, we know we are doing good for the community and making a positive statement."
Halifax has also shared information with Cranberry Village Residents Association in Carver, Mass., to help the co-op launch its own sales company.
But Halifax leaders say they cannot take credit for the information they're passing along.
Medvil Cooperative in Goffstown, N.H., helped Halifax establish its program by being kind enough to share information and offer support.
And when ROCs help other ROCs succeed, everyone is better – together